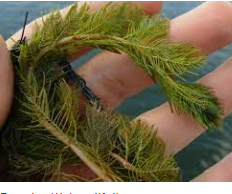 Stopping the Spread: The History of Managing Milfoil in Lake Luzerne
Milfoil is an invasive aquatic plant present in many Adirondack lakes. Left unchecked milfoil can spread rapidly and adversely affect water quality and temperature and negatively impact swimming, boating, and fishing. Did you know that a dedicated group of volunteers and local government have been diligently working for over 25 to control the spread of milfoil in Lake Luzerne? Three long time lake volunteers will describe the various methods that have been used over the years to successfully manage the spread of milfoil in Lake Luzerne. We'll also demonstrate some of the water sampling equipment used to monitor the lake's water quality as a part of the Citizen Scientist Lake Assessment Program and offer tips for how you can help protect our lakes. This presentation is based on the article, "Challenges and Successes Managing Eurasian Watermilfoil in Lake Luzerne: A 25-year Citizen-Government Partnership" published in September 2021 the Adirondack Journal of Environmental Studies.
Speaker Biographies
Jane Oppenlander teaches statistics and bioethics at Clarkson University's Capital Region Campus. She earned bachelors and masters degrees in mathematics and statistics from the University of Vermont and a Ph.D. in systems analysis from Union College.
Mike Schaffer is a retired physical education teacher and retired major in the United States Marine Corps. He earned a BS and MS from SUNY Brockport.
Kurt TeKolste is a retired former Senior Systems Analyst at Lockheed Martin. He earned a Bachelors from Oberlin College and a Ph.D. from the University of Rochester, both in mathematics.