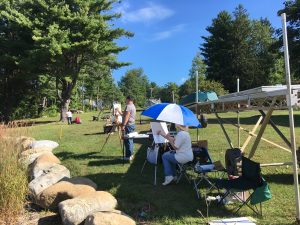 "Sacandaga Valley Arts Network's mission is to promote the arts throughout the Sacandaga Region.  SVAN supports a wide variety of regional artists, crafters, performers and musicians."
  We are an all- volunteer, non-profit (501(c)(3) organization.  Through the dedication and hard work of many, we are able to offer student scholarships, host art exhibits, provide gallery space for show and sale of local arts and crafts including literature, jewelry, basketry, paintings, photography, and much more.
In addition to this we host concerts by professional musicians and groups as well as theater productions. These concerts, most of which are free to attend, are supported by grant writing and community sponsorship.  We also offer hands-on workshops and artist receptions. The organization changes to reflect the current membership and board of directors,  "One consistency, SVAN's offerings have always been of high quality and value".